You may have encountered single-ply membranes for commercial buildings and you are wondering if it is suitable to yours. Experienced roofing contractors recommend this type of roofing as they consider it the most durable in the market. At Chase Roofing LLC, we believe in educating our customers, as their satisfaction is our priority.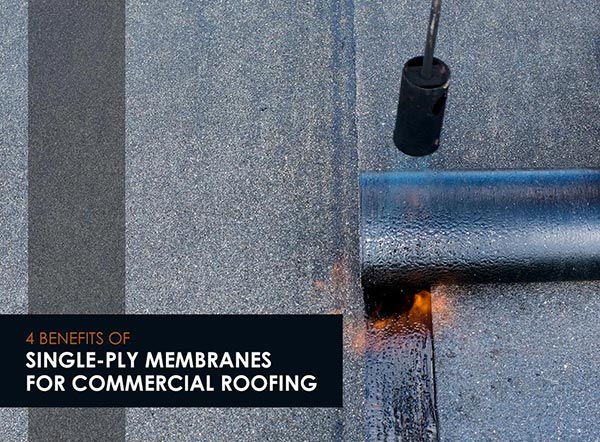 Here are the benefits of single-ply membrane for commercial properties:
Flexibility
Single-ply membrane is populate lately because of its flexibility in terms of composition and installation concerns. We offer EPDM (ethylene propylene diene monomer) and PVC/TPO (polyvinyl chloride/thermoplastic polyolefin) single-ply membranes.
EPDM, also referred to as rubber roofing, has a reputation for durability and can be applied using ballasted, fully adhered, and mechanically fastened techniques. PVC/TPO, on the other hand, are recommended for both residential and commercial roofing. TPO may cost less than PVC, but both are aesthetically pleasing and lightweight. Due to its composition, single-ply membranes can accommodate unconventional roof designs.
Protection
Installing single-ply membrane offers protection from damage. As an experienced roofer, we can also install drainage system using scupper drains, inner drains, and overflow drainage to protect you from leaks. Insulation and waterproof materials may be added to enhance safety. PVC single-ply membranes are also known for its resistance to fire.
Lower Cost
Because of its easy installation, single-ply membranes are inexpensive. It can also help you save in the long run, as single-ply membranes have a reflective surface. This means it can retain temperature easily, unlike traditional types of roof, leading to decreased energy consumption.
Benefit #4: Chemical Resistance
When choosing commercial roofing, consider chemical resistance. This factor contributes to the durability of the roof and experienced contractors like us know this prior to installation. When you're set on TPO and there will be chances of light chemical exposure, it's best to apply a second layer around sources of chemicals. These layers include vents and grease traps. PVC offers more flexibility than TPO and it is more acid-resistant. We recommend the use of PVC if the roof is likely to be exposed to grease and oils.
To know more about the benefits of single-ply membranes and its types, contact us at (757) 872-0700 or simply visit our website and fill out our online contact form. Our services are available to Hampton VA, Williamsburg VA, Yorktown VA, and surrounding areas.