Asphalt Shingles
Asphalt shingles cover more homes in America than any other roofing material. They are easy to install, provide excellent protection and are generally the least expensive roofing choice. Chase Roofing LLC offers a wide variety of asphalt shingle styles and colors that are an affordable option for your roofing system.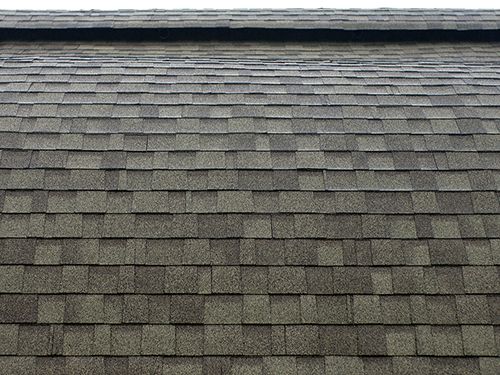 An asphalt shingle consists of a fiberglass or organic mat coated with asphalt, then covered with colored mineral granules for protection against the elements. Asphalt shingles are available in several grades. The better the grade, the longer the life expectancy, which can range from 15 to 30+ years. Here's more about the advantages of this roofing material.
Easy to install. Asphalt shingles are among the easiest roofing materials to install. The size and flexibility of shingles make it easy to adapt them to any roof size and shape.
Low-maintenance. Many roofing materials require regular maintenance in order to retain their appearance and performance. But asphalt shingles are easy to keep clean and can quickly be repaired or replaced if they are damaged.
Aesthetically pleasing. Asphalt shingles come in a wide selection of colors and textures. Certain asphalt shingles can mimic the look of wood, tile or slate, giving your home an elegant finish at a lower cost.
Lightweight. Although durable, asphalt shingles are still relatively light and will not place undue stress on your home's roofing infrastructure. Heavier materials may require additional bracing or support before installation.
Affordable. An asphalt shingle roof can be one of the lowest-cost options for roofing your home, giving you an excellent return on your roofing investment.
Trust Professional Roofers for Quality Asphalt Shingles
Get all the features you want in a roofing material at a price you can afford. Contact Chase Roofing LLC for a free shingle estimate today by calling (757) 872-0700 or completing our online quote request form.