The Trusted Local Roofing Company for Skylight Installation
Chase Roofing LLC is a premier local roofing company with a skilled team of professionals. We provide dependable, high-quality roof installation, repair and replacement services with the goal of giving every customer the right solution at the right price. In addition, our skills extend beyond roofing. Let our experts handle the installation of a skylight in your home or business.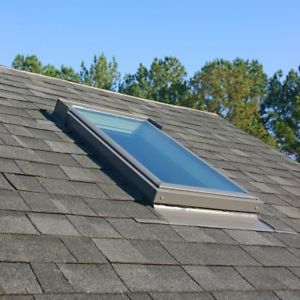 Our technicians are fully trained to correctly and efficiently install skylights. Our quality workmanship, hands-on approach to every project and commitment to safe and professional installations has earned us many awards and countless satisfied customers.
Professional Installation of High-Quality VELUX® Skylights
Quality skylights can add ample natural light and ambience to most any room. Chase Roofing LLC partners with VELUX to offer homeowners and business owners a complete line of beautiful, durable skylight products and accessories. From solar-powered skylights that encourage maximum energy efficiency to dramatic, award-winning skylights that add customized elegance to any architecture, VELUX® skylights come in a wide range of options.
Chase Roofing LLC works closely with customers to determine their style, budget and maintenance preferences when selecting the perfect skylights. VELUX products are built to last and can easily contribute to the comfort of a wide range of homes. With our professional skylight installation services, we can upgrade your home with gorgeous light and breathtaking sky views that add value, comfort and appeal to your property.
Schedule a Free Quote Today
Join the many Virginia property owners who turn to Chase Roofing LLC for their skylight and roofing projects. We're the local roofing company you can count on for free, no-obligation quotes and guaranteed satisfaction. To schedule your quote or to learn more about Chase Roofing LLC, call our local team at (757) 872-0700 or fill out our online contact form.