There comes a time when you need a new roof. With all the roofing options in the market, choosing what you want, much less the right one, can be difficult. Thankfully, certain roofing types stand above the rest, such as asphalt shingles. To help you decide if it is the roof for your home, we've taken a good look at its characteristics.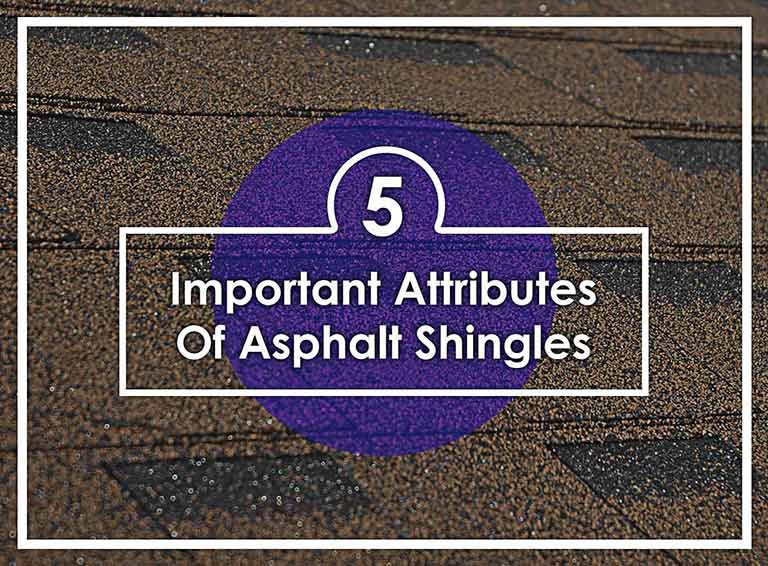 1. Wind Resistance
Asphalt shingles can resist high winds. Note, though, that there are different wind-resistance ratings, from the lowest (Class D) to the highest (Class H). With proper installation, as well as support from fasteners and bonds, asphalt shingles can reach Class H rating, which stands against winds of up to 150 mph.
2. Solar Reflectance
Instead of absorbing the solar heat, asphalt shingles reflect it. As a result, your home will be much cooler without depending too much on your heating and cooling system. This means less electrical usage and bills overall.
3. Impact Resistance
Asphalt shingles also resist impact. Their impact resistance rating of 1-4 makes them ideal for inclement weather conditions, such as hail storms.
4. Algae Resistance
Algae doesn't pose immediate dangers to the roofing or even siding. It is unsightly, though, which could decrease your property's curb appeal. Fortunately, Asphalt shingles, with proper treatment, have a high resistance to algae growth and its consequent discoloration.
5. Fire Resistance
Thanks to the materials used in their construction, asphalt shingles have a class A fire rating. This gives your home one less hazard to worry about in the event of disasters.
For a reputable roofer with all the right solutions at the right prices, there's Chase Roofing, LLC. Our commitment to excellence is evident in the workmanship we provide on a consistent basis. We serve multiple areas in VA, including Williamsburg. Call us today at (757) 872-0700 to get a free quote.