Metal roofing is fast becoming the material of choice for many homeowners thanks to its many benefits. Chase Roofing is a roofer that offers metal roofing options; today we share a few reasons to invest in metal: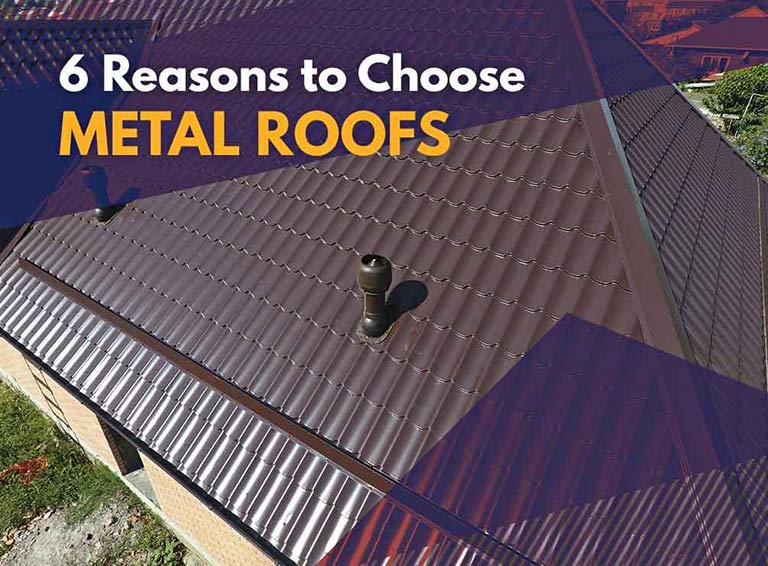 It's Lightweight – if you have an existing asphalt shingle roof, you can have a metal roof installed over your existing roof deck without adding support. In some cases, metal roofing can be installed directly over existing asphalt shingle roofing, saving you the cost of tear-off and disposal.

It's Extremely Durable – Given proper maintenance, metal roofs can last for more than 50 years. Metal roofs are nearly impenetrable and can resist rust, rot and insects. If you've had problems with impact damage from tree branches and hailstones, then you should consider switching to a metal roof.
It's Stylish – Today's metal roofs have evolved from the corrugated sheets used on barns and sheds. Standing-seam metal roofing is the most common option, but you can also choose other styles. Some options even mimic other roofing materials like slate, clay tiles and wood shakes; you can enjoy the benefits of metal roofing while remaining faithful to your home's architectural style.
It Helps You Save on Energy Costs – "Cool roofs" are roofs that reflect sunlight, the same way light-colored shirts keep you cool while outdoors. The less heat absorbed through the roof means the less indoor cooling your home will need, which helps reduce your monthly energy consumption. Bare metal roofing options like copper are naturally reflective, while other options can either be painted white or incorporate special reflective coatings.
It's Low-Maintenance – Metal roofs require much less maintenance compared with asphalt shingles, which means you won't have to spend as much time and resources on frequent roofing maintenance.
It's Environmentally Friendly – New metal roofing typically contains more than 50% recycled content while discarded metal roofing is 100% recyclable, including fasteners. Choosing to use roofing with a high rate of recyclability, like metal, helps slow down landfill congestion. Environmentally conscious homeowners will be happy to know that when it's time to replace their roof, only a small fraction of their old unit will end up in landfills.
To learn more about metal roofing or our other services, including skylight installation, call Chase Roofing today at (757) 872-0700. Alternatively, you can fill out our contact form to schedule a free estimate. We serve many areas in and near Williamsburg, VA.