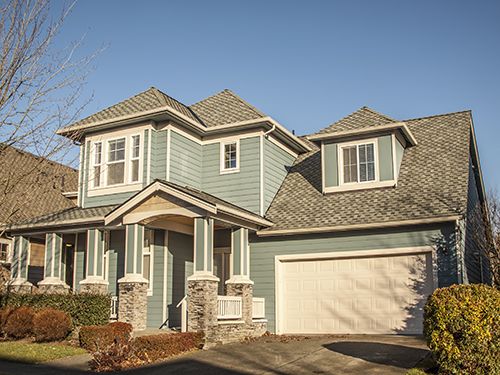 Here at Chase Roofing LLC, our technicians have a combined 50 years of experience working in the roofing industry. Over the last five years since our company was founded, we've developed a reputation with our customers for being reliable and fast when it comes to roof repair in Yorktown and all the neighboring cities. When you want a strong, dependable roof for a great value, come to Chase Roofing LLC first.
We are a family owned and operated business that is fully licensed and insured to further protect our customers. We use only the highest quality materials for your commercial or residential roofing in Yorktown and the surrounding cities, and we never cut corners on our jobs.
All Your Roofing Needs
Whether you need a simple repair, just need your roof inspected, or want to entirely replace your residential or commercial roofing, we are the professionals you can trust to get the job done quickly and right. Our services include:
Residential roofing
Commercial roofing
Metal roofing
Roof repair
With the best materials on the market and roofers that know how to do their jobs, we come prepared to every single job with a commitment to strengthening your roof. We believe that a new roof should last and protect your home or office from the elements. When you choose Chase Roofing LLC, you can trust in our commitment to exceed your expectations with our customer service and our work.
Why Chase?
We know that your business and your home are important to you, and that you've invested a lot of money in them. We also know that a strong, reliable roof is one of the most important things for any building. We care for your roof as if it were our own, and help you make the right choices for quality, longevity and curb appeal for your home and business. When you need a roofer in Yorktown or any of the surrounding cities that understands how to strengthen your roof, come to Chase Roofing LLC first.
Give Us a Call
To learn more about how we can improve your roofing and your home, give us a call today at (757) 872-0700.
Recent Jobs in Yorktown, VA
---
Jose L.
Near
Artillery Rd,
Yorktown
,
VA
23692
---
Jose L.
COMPLETE GOLDEN PLEDGE ROOF INSTALLATION 25 YEARS GAF WORKMANSHIP WARRANTY.
Near
Artillery Rd,
Yorktown
,
VA
23692
---
Jose L.
Need new roof
Near
Unnamed Road,
Yorktown
,
VA
23692
---
Sergio C.
Near
VA-621,
Yorktown
,
VA
23692
---
Jose L.
Install synthetic underlayment install high definition shingles install leak barrier at all roof pipe collars install snow country ride vent system plus warranty stain guard advance protection technology algae discoloration GOOD HOUSE KEEPING SINCE 1909 Great Value beautiful look Peach of Mind Hinges Fire COLOR WEATHERED WOOD GAF IS U.S BASED!
Near
Mary Bierbauer Way,
Yorktown
,
VA
23693
---
Jose L.
Furnished with high quality roof replacement related services to customers.
Near
Carol Dr,
Yorktown
,
VA
23692
---
Jose L.
Installation of new roof was done cautiously and properly.
Near
Lindsay Landing Ln,
Yorktown
,
VA
23692
---
Jose L.
Replacement of roofs was made out successfully by an expert.
Near
Ship Point Rd,
Yorktown
,
VA
23692
---
Jose L.
The installation crew did an excellent job in installing the roofing system.
Near
Buttonwood Ln,
Yorktown
,
VA
23693
---
Jose L.
Completed a roof replacement in the neighborhood.
Near
Ella Taylor Rd,
Yorktown
,
VA
23692