The beauty of asphalt shingles is that they fit easily with almost any imaginable home style in Virginia. Whether you want to give your roof the old-world grace or a touch of modernism, choosing the right product is the key.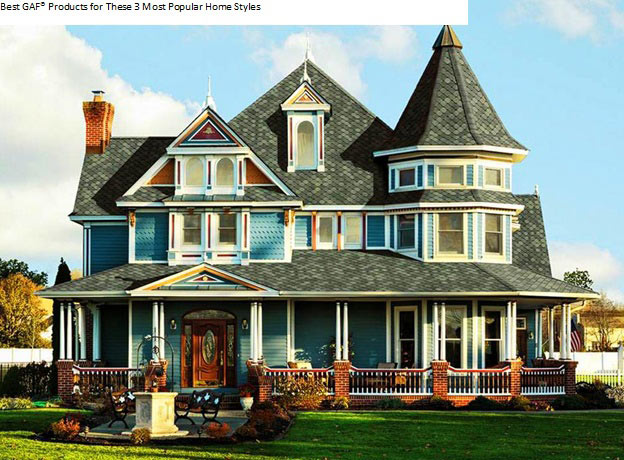 At Chase Roofing, you can count on us not just for excellent replacement and outstanding roof repair in Newport News, VA, but you can also rely on our expertise in exterior design. With over 20 years of experience under our belt, we can help choose the most suitable GAF® asphalt shingle product for your home. After all, we are a Master Elite™ contractor for good reasons.
Victorian
If you live in a Victorian home, the products we strongly recommend are Slateline® or Sienna®.
Considering the old-world elegance Victorian-styled homes convey, the former offers you the classic charm of slate that adds distinction to your home. On the other hand, the latter are diamond-shaped shingles that emulate the timeless beauty of slate tiles and wood shakes, which give character to your roof.
Compared to other types of roofing in Newport News, VA, both options only come at a fraction of the cost. These GAF products are the fastest way to bring luxury and sophistication to your roof's appearance without sacrificing performance. They're available in a broad spectrum of bold colors to help blend with the rest of your exteriors.
Ranch
When it comes to the low, expansive rooflines of Ranch homes, Grand Sequoia®, Grand Canyon®, or Timberline® works best.
The unique look of Grand Sequoia can make your simplistic façade stunningly striking. Grand Canyon mimics the appearance of rugged wood-shake, lending more depth and dimension to your roof. The most popular in America, Timberline comes in many varieties that all evoke the unmistakable allure of genuine wood-shake.
Contemporary
Much like with Victorian homes, Slateline is arguably the most fitting for modern abodes. With its bold lines and tapered cut-outs, this shingle product in dark gray and brown tones can accentuate your exterior's crowning glory.
Be it replacement or roof repair in Hampton, VA, Chase Roofing is the only name you can trust when it comes to GAF roofing systems. Our Master Elite status speaks of our unparalleled work excellence and faultless performance in all areas of business.
Entrust your major investment only to the most capable hands. Call us now at (757) 872-0700 and let's talk about your new roof.