Does your gutter have problems? It's important to keep your gutter system in great condition because it's your home's primary water management system. If it indeed has problems, you need to call Chase Roofing for gutter repair to guarantee a safer household. Today, we'll talk about the common gutter problems you need to be aware of when checking out your gutters: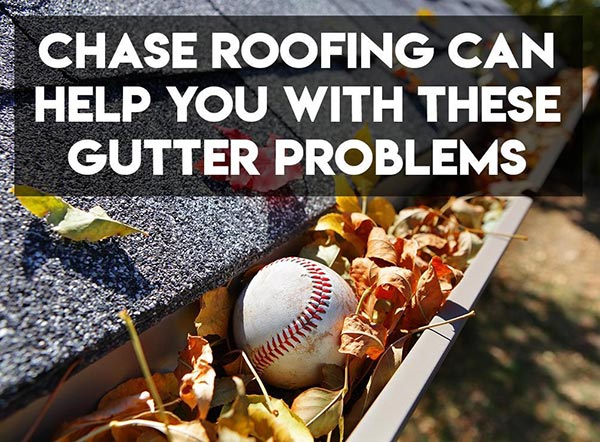 Your Downspouts Are Draining Too Close – Your downspouts need to extend several feet from the house if you want to avoid water saturating the soil around your foundation. This wet soil can put a tremendous amount of pressure on the side of your home and cause cracks. We can prevent this costly problem by attaching extensions to your downspouts so that they will discharge water far away from your foundation.

Sagging Gutters – This indicates that there is a problem with your hangers, the hardware that secures your gutters to the fascia. It might have deteriorated over time, the hangers might be spaced too far apart, or the gutter system might be too heavy. Call us and we will fix this problem. As a roofing and gutter expert, we'll make sure that your gutters won't pull away from your home.

Gutter Clogs – Gutter clogs form when leaves, dirt, pine needles, or debris fall from your roof and get stuck in your gutter system. This prevents water from flowing into your downspouts and subsequently causes your gutters to overflow. This can lead to water damaging your roof, foundation, siding, and interior. We can prevent this from happening by clearing your gutters and installing our gutter protection system. Just give us a call.
Chase Roofing is the leading choice for gutter replacement, gutter protection, roof repair, and roof replacement in our local area. We have over two decades of experience in helping out homeowners with their problems. We can protect your home water damage by making sure your gutters and roof are well-maintained. We serve many areas including Newport News, VA, and the surrounding communities. Call us at (757) 872-0700 to learn more about gutters. You can also get a free quote.