Thinking about switching to a different type of roof? Not all roofing materials are reliable. Before you switch to a metal roof, for example, you may encounter some misinformation, but you also need to know the facts behind them.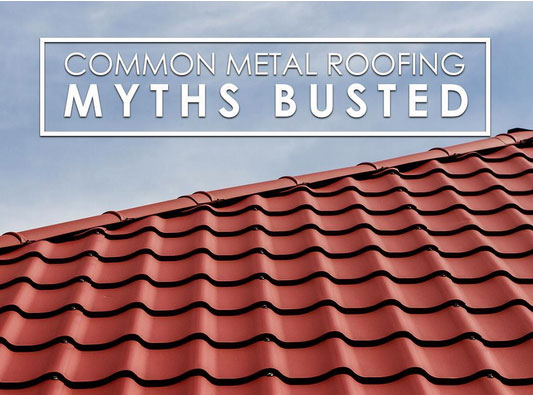 Here are the most common myths about metal roof as explained by Chase Roofing LLC, your trusted roofer.
Myth #1: Metal roofing is too noisy.
While it's true that metal sheets produce a rattling sound when hit by heavy objects, this may not the case for modern metal roofing. Metal roofing system normally requires solid sheathing during installation. This will ensure that you won't wake up to the sound of hail, falling branches, and other debris. In fact, metal roofing doesn't even produce disturbing sounds unlike other types, such as asphalt shingle roofing.
Myth #2: Metal roofing is expensive.
Roofing material cost depends on quality. The real cost of the metal roof is different from the cost you need to pay upfront, however. With metal roofing, its slightly higher upfront cost is more than offset with its longevity, which is 40-60 years. In Chase Roofing LLC, we provide metal roofing systems that are durable and resistant to rust and insects. Worry less about an early replacement!
Myth #3: Metal roofing is prone to lightning strikes.
Installing a metal roof won't increase the chances of getting struck by lighting. It may be a conductor of electricity, but it is noncombustible, unlike wood. You can sleep well at night knowing that your house won't catch fire even if lightning strikes. For your peace of mind, you can always choose one with the highest fire rating.
Myth #4: Metal roofing is unattractive and may not be suitable to your existing house.
If you are thinking about old barns and warehouses, then this is correct, but today's metal roofing systems are manufactured in various styles and colors. Some metal roofs can even emulate cedar shakes or asphalt shingles. Chase Roofing LLC provides metal roofing in a wide array of textures.
Deciding which type of roof suits your house can be a tricky task if you are not aware of these myths.  At Chase Roofing LLC, we believe that educating customers is the best way of helping them pick the right choice. Our services are available to all residents of VA, such as Williamsburg VA, Hampton VA, and Yorktown VA. To know more, call us at (757) 872-0700 or request a free quote.