Gutters play an important role in the overall roofing system. The problem, however, is that they can accumulate various issues over time. Constant exposure to the harsh elements can do quite a number on them. And when that happens, you'll need emergency gutter or roof repair services.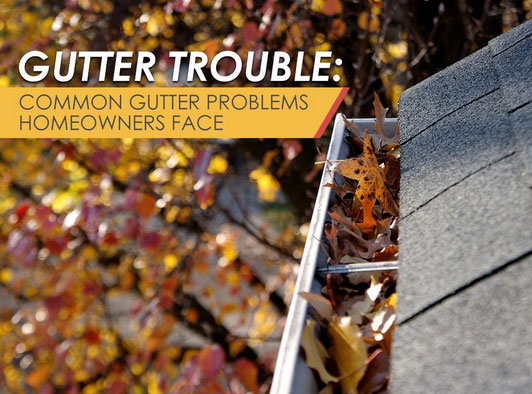 To keep them in tip-top shape, it's important to keep an eye on potential problems and curb them right from the start. The following are common gutter problems homeowners face.
Clogged Gutters
Clogging is perhaps the most common gutter problem. Over time, debris can accumulate and clog up your gutters—rendering them inefficient. Don't worry, though. With routine clearing and a good gutter shield, you can minimize or altogether eliminate this problem.
Sagging Gutters
When gutters clog and water stands still, the weight can end up being too much for your gutters to bear. Keep in mind that water should only flow through them. When this happens, it's only a matter of time before they sag further and fall off completely. Avoid this by installing a dependable gutter protection system.
Leaks and Holes
Over time, leaks and holes can develop and compromise your gutter system. This can cause various significant water damage to your home's siding, structure, and even landscaping. Contractors who offer roofing services, like Chase Roofing, LLC., ensure not having to deal with these problems.
Improper Installation
Even if you've got the most efficient gutter system installed in your home, it won't mean a thing if it's improperly pitched. The bottom line is they need to be sloped toward the downspouts if they are to direct water down and away from your home's structure. Additionally, downspouts also need to be a fair distance away from the structure. Otherwise, it will only end up dumping water in your basement and cause all sorts of water damage.
Chase Roofing, LLC. aims to be your trusted roof and gutter repair service provider. We handle all types of roofing repairs from minor leaks to full-on replacements. Our service area includes Newport News, VA, and surrounding areas. Call us at (757) 872-0700 today and get a free no-obligation quote.