When it comes to home maintenance, gutters might not be the first thing that comes to mind. But did you know that a properly functioning gutter system is crucial for protecting your home? From preventing water buildup to keeping your foundation safe, gutters play several key roles. That's why keeping them in optimal condition all year should be a top priority. Here are steps you can take to ensure your gutters in Yorktown, VA, are always up to the task: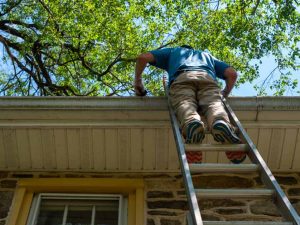 Get Regular Inspections
Have a trusted roofer in Yorktown, VA, regularly inspect your gutters. Problems can arise over time, from small cracks to blockages, affecting a gutter's efficiency. Professionals recommend inspections twice a year, usually in the spring and fall, to catch any issues early on.
Proper Cleaning
While it may seem like a minor task, cleaning your gutters is key to preventing issues such as leaks, overflows and water damage. Gutters filled with debris can become breeding grounds for pests and may even cause ice dams during the winter. A professional cleaning service not only handles the messy work but is also equipped with the right tools and techniques to ensure a thorough cleaning.
Immediate Repair
Spotting a leak or crack in your gutter? Don't put off repairs. Neglected gutter issues can lead to severe consequences, like roof damage or even foundation problems. It's essential to address these issues immediately and hiring professional services like roofing in Yorktown, VA, can ensure the job is done correctly and promptly.
Get a Gutter Replacement When Necessary
Sometimes, the damage is too severe and the best course of action to take is a complete gutter replacement. This is the case if gutters are aged, heavily rusted or irreparably damaged. An experienced professional can help you identify when a replacement is necessary, ensuring a longer-lasting solution than patchwork repairs.
Hire Experienced Professionals 
While maintaining your gutters might seem like a simple task, there are specific techniques and safety risks involved that make professional service the best choice. Hiring a professional service not only eases your burden but also provides a higher level of expertise and quality of work. Professionals ensure proper installations, maintenance and troubleshooting that will keep your system working flawlessly year-round.
Chase Roofing Can Help
Need help with your gutters in your Yorktown, VA, home? Contact Chase Roofing at (757) 872-0700 or visit our contact page. Leave it to the professionals and you won't have to worry about gutter problems again.