There are three ways to look for storm damage to the roof: check the attic, inspect the outside from the ground or use the ladder. The first two are doable without a wealth of roofing experience, but the last one is a risk for amateurs and even skilled do-it-yourselfers.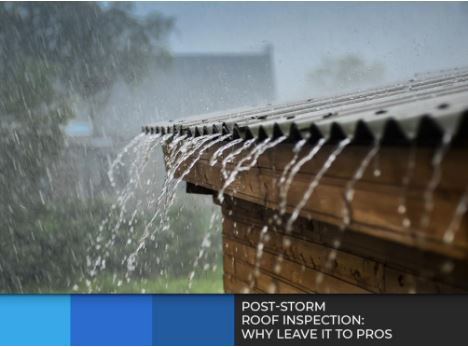 Be it a residential or commercial roofing system, Chase Roofing explains why you should leave the inspection to professionals at all times:
Safety
The number one reason, of course, is to avoid getting hurt. Even the most skilled and well-equipped pro roofers are not immune to serious injury. The less protective gear you use and safety knowledge you know, the riskier the job gets. This is especially true for steep-slope roofs where maintaining proper balance can be a struggle for anyone, with or without a fear of heights. Whatever your motivation for wanting to DIY your roof inspection, you should give it some serious thought.
Accuracy
Getting your roofing system professionally inspected after a storm is key to identifying every little red flag that needs attention. Determining whether your flashings are about to go bad or your shingles are misshapen enough to allow leakage is hard without a trained eye. You can't spot damage without knowing what it actually looks like in all its different forms. If you inspect your roof yourself and miss a cause for concern, you might experience a leak when least expected.
Efficiency
A roof inspection can get lengthy, especially if you do everything on your own. Since you only have a small window to spot damage and fix it before the next bout of bad weather comes around, time won't be on your side. To avoid cutting corners and ensure faultless workmanship, leave the job to an experienced crew that can work quickly and accomplish more in less time.
At Chase Roofing, we provide inspection services for free and perform roof repair ASAP. Expect us to be there in no time to satisfy your roofing needs without the long wait. Call us at (757) 872-0700 today to schedule your roof inspection in Hampton, VA, at your most convenient date and time.