On average, solar panels last for as long as 30 years while most roofing systems have a life span of about 20 years. This disconnect is one of the biggest considerations you have to take before you install a solar energy system on your roof. Once they're up there, the solar panels are very difficult (and expensive) to move. So if you're due for a roof replacement, it's best to finish that first.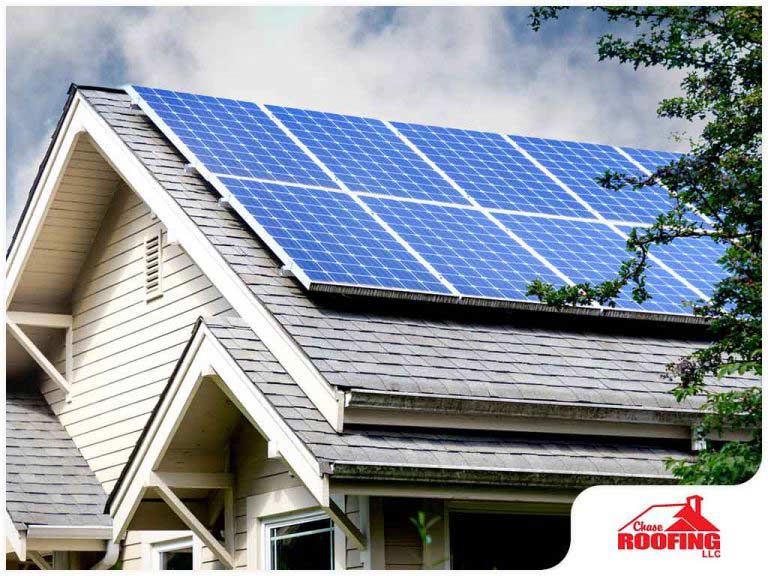 Read on as our roofing professionals at Chase Roofing LLC show you a few important pointers to keep in mind to make your roof more compatible with your brand-new solar system.
Asphalt Shingles
The 20-year roofing system mentioned earlier pertained to asphalt shingle and composite roofs. While these roofs aren't the strongest and longest-lasting material, you don't necessarily need to call in a roofer when putting up solar panels. In fact, solar panels can even protect the roof against impact damage from hail. The panels themselves are supported by the beams and the connections that penetrate the shingles are covered with appropriate flashing.
Metal Roofing Systems
If there was one material that seems meant to be paired with solar panels, it would be standing seam metal roofs. The only disadvantage to metal roofs and solar panels: the weight. Metals are already of considerable weight. Installing a full solar energy system on top of the roof will require reinforced steel brackets and additional support beams. Other than this, metal roofs remain pretty much unaffected.
Ceramic and Concrete Tiles
Roofers and installers need to take extra care with ceramic or concrete tiles as they can break from the added weight of solar panels. However, with proper safety measures, there shouldn't be any problems. Don't forget to get any gutter repair, installation or maintenance service done as well to keep the roof in good condition once the solar panels are up and running.
At Chase Roofing LLC, we are your leading local roofing company. Give us a call at (757)-333-0052 or fill out our contact form to schedule a consultation and request a free estimate today. We serve homeowners in Williamsburg, VA.