When planning a roof replacement, it's incredibly important to choose the right roofer for the job. The quality of your roof installation has a significant effect on the life span and performance of your new roof. Chase Roofing is the top choice for local homeowners because of our excellent craftsmanship. In fact, GAF recognized our skills and awarded us the GAF Master Elite™ certification. Here's how this certification can help you: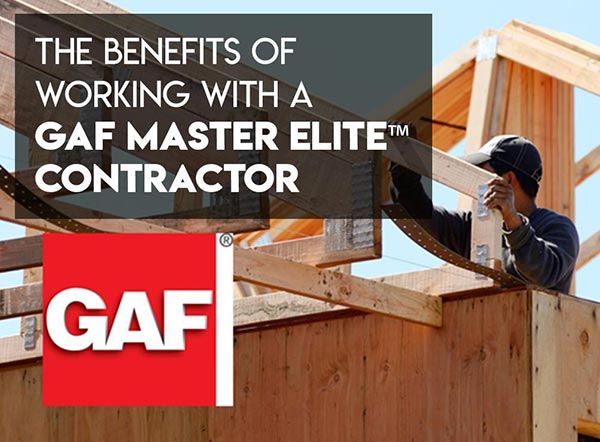 We Provide Exceptional Workmanship and Customer Service
Contractors have to meet GAF's strict requirements to qualify for a Master Elite certification. These requirements are so strict that only the top 3% of all roofing companies can qualify. First, a contractor must have all the required roofing licenses. They must also have full insurance to protect the homeowner from liability. They must also have a proven reputation in their community and they must devote time to ongoing professional training. Since we meet all of these requirements, it means we can guarantee the best possible services and craftsmanship for your project.
You Can Choose From The Full Range of Products
Our Master Elite status means that we have mastered the installation, repair, and maintenance of GAF's full line of roofing products. GAF trusts us to offer all of their products to our customers. We can install shingles that can meet any kind of homeowner need. We have shingles in a wide range of colors and designs that can enhance any architectural style. We can also install shingles that will greatly improve your home's energy efficiency and weather resistance.
We Can Offer The Best Warranty
Lastly, we are one of the few roofers in the country who can offer you GAF's best warranty: the Golden Pledge®. This warranty covers your entire roofing system and it has a 100% coverage period for material defects for 50 years. It also provides a 100% workmanship coverage period of 25 years. The tear-off costs, disposal costs, and cost of installation labor is also included in the warranty. This warranty is also fully transferable.
As a GAF Master Elite contractor, we are among the best roofing companies in the industry. You can leave your roofing project to us. In addition to our roofing services, we can also replace your gutters or install a gutter protection system. Chase Roofing is an award-winning company with over 20 years of experience. We serve many communities including Yorktown, VA, and the surrounding areas. Call us at (757) 872-0700 to learn more about our GAF Master Elite Certification. You can also ask for a free quote.