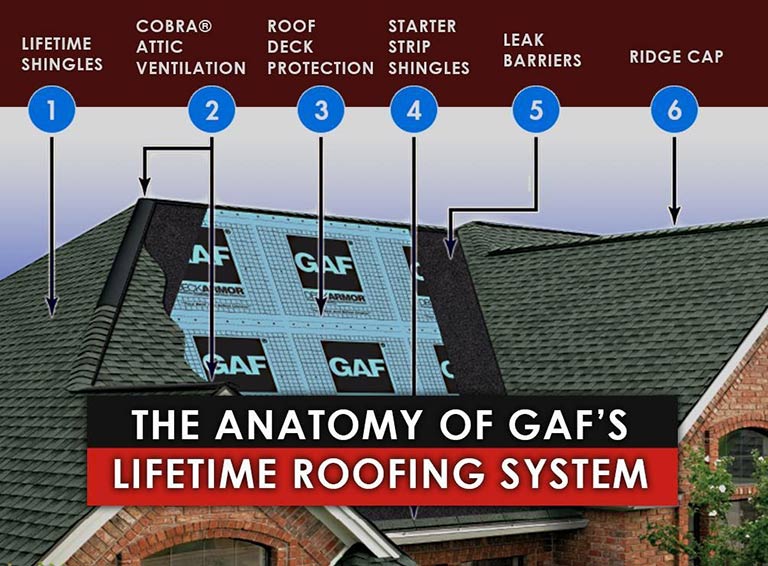 GAF's Lifetime Roofing System is the best kind of asphalt shingle roof you can buy. It consists of specially designed parts that contribute to the overall performance of the whole. Since every GAF roof is more than just high-quality shingles, get to know all of its components:
Leak Barriers
These are self-adhering membranes that cover the most vulnerable areas of your roof, such as the valleys and eaves. Every GAF Master Elite™ roofer, including Chase Roofing, would recommend them because they deliver exceptional protection against leaks due to roof settling and detrimental elements, such as ice and wind-driven rain.
Roof Deck Protection
This underlayment safeguards the underlying wooden roof deck against the water infiltrating under the shingles. It also prevents the shingles from buckling during installation, allowing them to lay flatter.
Starter Strip Shingles
Installed at the eaves, they help keep your shingles from blowing off in high winds because of their factory-applied adhesive strips. Since they're pre-cut, they can be quickly applied.
Lifetime Shingles
GAF's Lifetime Shingle choices come in a large variety of colors, profiles, and textures, giving you considerable latitude to complement your siding. Made using the brand's Advanced Protection® Technology, expect them to resist the rigors of nature for a long time while preserving their pristine appearance. In other words, they would weatherproof and beautify your home for a long time.
Attic Vents
They lend every GAF roof an efficient ventilation system. Premium intake and exhaust vents help your home expel excess heat and moisture to regulate your indoor temperature and prevent premature roof failures. They keep your attic cool in summer and dry in winter.
Ridge Cap Shingles
They round out the look of your GAF roofing system while guarding against leaks at the hips and ridges. These specialized shingles match the style of your chosen Lifetime Shingle product for a uniform appearance.
Turn to a Master Elite roofer to harness the best of GAF's Lifetime Roofing System for your home in Williamsburg, VA. Call Chase Roofing today at (757) 872-0700 to talk about your project in detail and get a free estimate.