As a trusted roofing expert, we receive a lot of questions from homeowners who want to learn more about their roof. One of the most common questions concern the signs that a roof needs to be replaced. They are surprisingly complicated because there are many things we need to consider before giving a definite answer. Fortunately, there are a few warning signs that show that roof replacement is likely: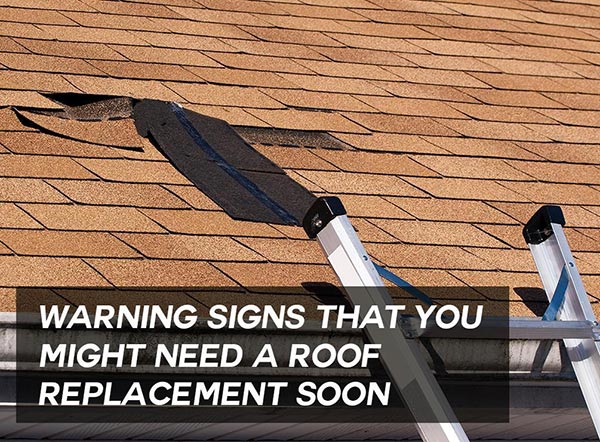 Missing Shingles – If you have these, then you should be thinking of roof replacement soon. It means that some of your roof shingles have failed to withstand strong winds and other bad weather. Since your roof components tend to age uniformly, this could mean that your remaining shingles will be blown off next. You need to call us for a roof inspection as soon as possible.

Roof Sagging – This is one of the most troubling signs you can see on your roof. A sagging roof typically indicates an underlying structural issue. There could be problems with your foundation or your attic. You need to call a roof repair expert like us to prevent further damage. It's much more easier and affordable to take care of this problem when it is still small and localized.

Granules in Your Gutter – Your roofing shingles have granules that protect them from long-term sun exposure. Without those granules, your shingles can crack, blister, or curl. When you see granules in your gutter, it means that your shingles are near the end of their service life. You need to start preparing for a roof replacement in the future. Call us for an inspection so we can determine how soon you will need a new roof.
If you see one or more of these signs then you need to call us a for a complete roof inspection. As a residential and commercial roofing expert, we can tell you whether you need a roof replacement or not. Chase Roofing has over two decades of experience providing quality roofing for local homeowners. We serve many areas including Hampton, VA, and the surrounding communities. Call us at (757) 872-0700 to learn more about roof replacement. You can also request a free quote.