Many consider the climate of the state of Virginia to be mild as compared with other states. While this may be often the case, seasonal extremes can range from average lows of 26 degrees in January to average highs of 86 degrees in July. Furthermore, it experiences an annual average of 35-45 days of thunderstorms, particularly in the western part of the state. In addition, the area averages seven tornadoes yearly.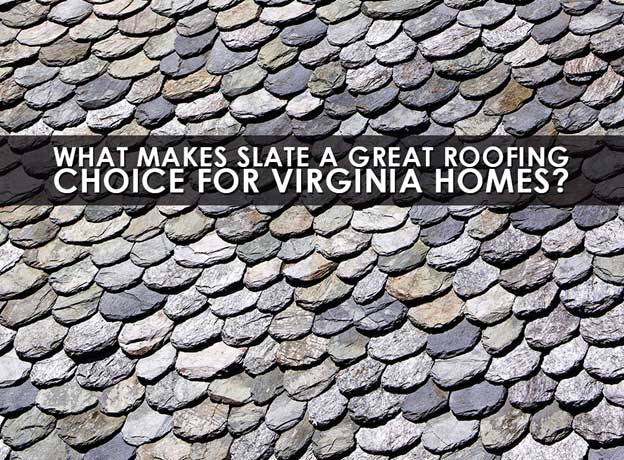 In any case, you need a roof that can outlast any weather condition, and no roof can deliver this like our slate roofing in Newport News, VA. Let Chase Roofing discuss what makes our roof ideal for the region.
Enduring
Slate's natural stone features ensure you lasting protection against severe weather conditions. Its extreme density makes it waterproof, keeping your home free of leaks. It is also incombustible. Due to its extreme durability, it also makes for a sustainable roof option. This will lessen the need for an early roof replacement, leading to less roof debris going to landfills.
Low-Maintenance
A timely roof repair in Hampton, VA, will help prolong your roof's service life. Installing our slate roofing, however, will keep you from needing premature roof repairs. This option is can resist mold and algae growth, which can render your roof's reflective qualities inefficient. Additionally, slate roofs can resist chipping, cracking, and rotting, allowing them to last for years.
Visually Pleasing
Apart from being naturally attractive, our slate roofs come in an extensive selection of colors, sizes, and thickness, which will match your home's architectural style. We offer them in green, black, or a combination of colors, to enhance your home's curb appeal further. You can rely on our crew to help you choose the best slate roof to complement your home's exterior.
At Chase Roofing, you can count on us to provide you with roofing solutions that will address your needs. We can provide you with a thorough roof inspection, precise roof assessment, and swift roof repair in Newport News, VA. In addition to slate roofs, we offer other roofing systems, such as asphalt shingles and metal roofs, which will surely protect your home from harsh conditions.
Call us today at (757) 872-0700 for a FREE estimate.