Home improvement projects, especially ones involving your roof, won't become a juggling act if you plan accordingly. This involves making sure that every fine detail about the project is on schedule. This limits the time, effort, and expenses needed to complete the project. Your choice of materials, your budget, and weather all play an essential role to this.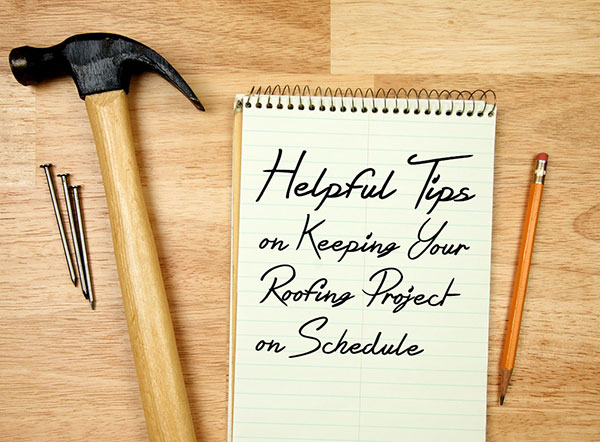 Chase Roofing, your expert in roof repair in Hampton, VA, shares three handy ways that ensure your roofing project remains on schedule:
Consider Your Budget and Materials
The length of time it takes to complete your project will depend largely on how much you're willing to spend. If you're looking to invest in more premium roofing materials, for example, you should expect to wait a few days or even weeks for their shipment. Expensive materials also require meticulous, expert work from your roofing contractor, so it may take a bit of time. On the other hand, choosing accessible materials like asphalt shingles allows for easier installation, helping cut back on work hours.
Chase Roofing, for instance, carries only the highest-quality shingles from GAF®. They are available in a range of thicknesses, textures, and colors, with some even emulating the look of authentic wood shakes and slate. Our three-tab, Timberline®, and Designer series are eye-pleasing while offering superior protection and performance. Since we are a GAF Master Elite™ roofer, expect us to install your new roofing in Newport News, VA, in a timely and efficient manner.
Choose a Day that's Amenable for Outdoor Work
Weather is an unpredictable factor that can affect how long it takes to finish your project. It might turn sour just as your roofing contractor is doing work, forcing you to reschedule. Try to study your area's weather patterns and start the work on a day when it's ideal to conduct roofing work. In addition, it may be better to book your project during your contractor's slow season. This way, they'll be able to give your project the focus and attention to detail it deserves.
Apply for a Building Permit in Advance
Before choosing the day for your roofing project, ask your contractor which or if building permits are required. By planning ahead, you can prevent delays on your home improvement.
Hiring a reliable roofing contractor like Chase Roofing also factors in keeping your project on track. Whether you need replacement or roof repair in Newport News, VA, you can count on us for timely and professional workmanship.
Call us today at (757) 872-0700 or fill out this form to get a free quote.