Entrusting your roofing projects to professionals helps reduce the chances of injury and property damage. With proper credentials, a legitimate roofing company can observe sound safety practices and shoulder accountability if any worker gets hurt on the job.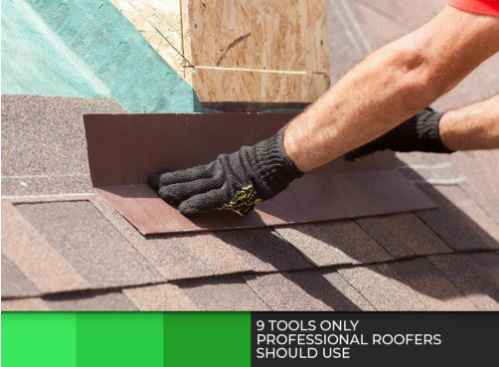 Unlike most do-it-yourself enthusiasts, professional roofing contractors, like Chase Roofing, have and know how to use these important tools:
Ladder
Experienced roofers use the ladder with care because a ladder is a hazard. According to the National Safety Council, 300 deaths and 130,000 injuries happen every year because of ladder-related accidents.
This is why roofing professionals put a premium on ladder maintenance. Also, they always stick to the basics, such as making the ladder stand on level, solid ground and extending it at least three feet beyond the gutters.
Fall Protection Kit
Professional roofing contractors invest in high-quality fall protection equipment. They use roof anchors, safety harnesses, rope lifelines and shock-absorbing lanyards to maintain proper footing at all times.
Crowbar
For ease of tear-off, every professional roofer uses a crowbar to dislodge hard-to-remove nails with little fuss.
Flat Head Shovel
Since a clean slate is necessary to preserve the structural integrity of the new materials, pros use a flat head shovel to strip away existing shingles.
Chalk Line
For optimum shingle positioning, roofers draw horizontal and vertical chalk lines on the bare roof deck.
Roofing Nails
Professionals use the right kind of nails to fasten roofing materials. Since manufacturers have unique installation requirements for superior wind resistance, it's best to hire someone factory-certified to use the right number of nails per shingle.
Nail Gun
A hammer can be an efficient tool for small roof repair projects, but a power nailer is more appropriate to carry out speedy roof replacement.
Utility Knife
To make the necessary size and shape corrections along the way, professionals use utility knives with caution to cut or trim shingles.
Tarp
Pro roofers are always prepared for inclement weather. They tarp the roof to protect the wood deck from rain and keep delays to a minimum.
At Chase Roofing, you can rest assured our crew will arrive with the complete set of tools needed for your particular project. Call us at (757) 872-0700 today to talk about your roofing needs and get a free estimate in Yorktown, VA, or nearby areas.