A lot of thought goes into your roofing project, and a huge part of it is choosing the right contractor for the job. After all, the last thing you want is to waste time and money on a contractor that doesn't deliver as promised.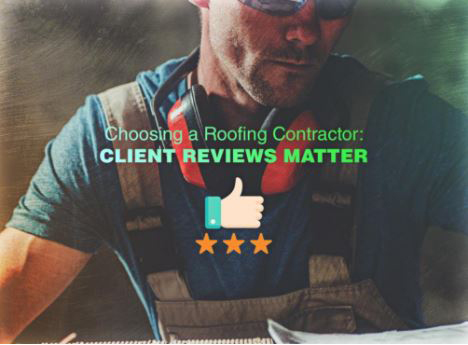 So, how do you pick out the realistic contractors from those promising you the moon? How do you know your roofing project is in the right hands? Two words: client reviews.
Here are some of the reasons client reviews matter, and how they help you choose the right roofer for your project:
1. Eliminates the Guesswork in Hiring a Contractor
We tend to rely on the words of families and friends when it comes to big decisions, but what are the chances a close friend has worked with a roofing contractor recently? Reviews from previous clients provide a good alternative to referrals. Reading client reviews provides you information about the experience they had with the contractors, giving you some assurance when hiring them.
2. Provides You With Several Options
Looking for online reviews is a great way to introduce you to companies you might not have found otherwise. By scanning reviews on listings, you can find names of roofing companies that may not have appeared in your initial searches. This provides you with more options to choose from.
3. Gives You an Idea on the Quality of Their Work
As you'll be working on a major home project, it's only natural to want a contractor that can deliver quality results. Looking at portfolios may not be enough if you want to get a feel of the quality of their work. Reviews from previous clients, on the other hand, can provide you with additional insights on how a contractor works and what kind of result you can expect from them.
Don't go with the first contractor you see on Google; create a list and compare. This will make it easier to narrow down your options.
Ready to hire a contractor? Our team at Chase Roofing LLC is always happy to help, whether with roofing or gutters installation. Call us today at (757) 872-0700! We work with homeowners in Yorktown and other VA communities.