Inspection and repair are two of the most crucial steps in ensuring that you have properly maintained your roofing system and you have chosen the best roofer to provide such service. As a homeowner, you have to be knowledgeable at least on the basics of inspection and repair to avoid costly damage to your property.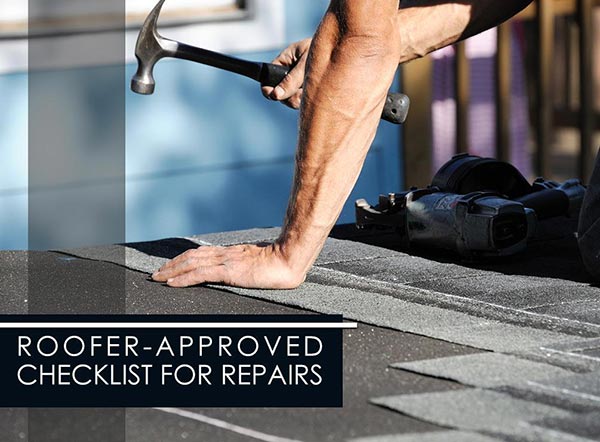 At Chase Roofing LLC, we would like to share with you a roof repair checklist that will serve as your guide before, during, and after repairs.
1. Roof's Age
Have you ever thought about the age of your roof? This is your first step to identify when to perform inspections Its life expectancy depends on the roof materials; for a metal roof, it lasts up to 50 years while for asphalt shingle roofs, they last for 20-35 years. Meanwhile, concrete tiles usually last about 35-50 years. Inspection is a must if your roof is already in its middle age since its installation.
2. Inspection
There are two parts of inspection: internal and external. Some homeowners do the inspection on their own, while others hire a roofing contractor for thorough inspection. Once scheduled, expect one of our representatives to visit your home for the inspection.
Contractors start by checking the internal parts of your home to see if there are any signs of roof deterioration. When they see cracks on the roof sheathing, water stains on the ceiling, bubbles, sagging, wet spots that are soft when pointed with screwdriver, natural light coming through the roof, mold, and others that are not supposed to be visible when the roof was installed.
As for the exterior inspection, the contractor checks for exposed nails, cracked chimney, rusty or corroded metal flashing, broken seals, loose shingles, blistered or curled shingles, rotting fascia board, shingle granules in the gutter, clogged drainage, and mold. Discoloration of panels and roofing shingles may also be a sign.
3. Licensed Roofer for Recommendation
Make sure you have listed down all the signs you have encountered during the inspection or at least have the contractor prepare an inspection report. In most cases, inspected areas will be rated from poor to good. Areas rated good do not need to be repaired or replaced. If you choose to work with us, such report will be the basis of our recommendations for repair.
4. Roof Warranties
Once the roof repair is complete, make sure that the contractor provides two warranties: manufacturer's warranty and workmanship warranty. This will help you manage your expectations on the quality of the material and service provided. The type of warranty depends on the manufacturer of materials used by your contractor. Since we are factory-certified GAF Master Elite™ roofing contractor, we offer warranty options, which can be discussed by our representative.
For a roof inspection request, call us at (757) 872-0700 or simply visit our website and fill out our online contact form. Our services are available in Hampton VA, Newport News VA, and the surrounding areas.